2017 - the year of Growth! & Nash - Barnett boy #4
How is it that another year is almost gone!?... another digital scrapbook of memories that I am now behind in compiling!?
2017 was full of so many amazing moments and so many difficult moments. Life is funny like that, and variety is its spice, afterall. We went from a family of 5 to "Barnett Party of SIX!". Nash's birth story was by far the most dramatic of our 4 boys. When I scroll back through the photos of his birth, I am truly in awe of the perfect lessons God taught us through one little boy's birth story.
I had been dealing with prodromal labor for weeks on end and was exhausted working two 17-hour shifts back to back at the hospital every weekend (through the night) with my ever growing belly. My feet and ankles were incredibly swollen and I was just getting a sneak peak at what sleep deprivation was really going to look like with four boys.
When my final weekend at work came to a close, I had been in the Labor & Delivery unit with the most beautiful contractions coming at perfect intervals, but with no real cervical changes. So, I went home. God was saying, the timing isn't quite right to unfold an amazing story with all the right people in place. Parker had been battling a complication of his colectomy performed years ago, but was accustomed to managing the discomfort on his own and usually symptoms would pass within 24 hours. At 3am Tuesday, my contractions were feeling as intense as ever and I felt like it was time to go to the hospital. Parker was on board, not feeling 100%, but hanging in there.
A hospital cervical check revealed my cervix was, in fact, making changes and my midwife and dear friend Michele was ready to admit me. While this was happening, Parker's condition was taking a turn for the worse and he was in serious pain. Michele looked at him and said, "I think you need to go to the ER, Parker!". A super fast admission into the ER and a Cat Scan revealed that Parker would need to be admitted to the hospital as an inpatient and surgery was a real probability.
Not the ideal scenario in an un-medicated birth, to have your vital labor partner in a hospital gown of his own in a department across the hospital from you. It was a moment I won't forget, as I contemplated his condition and realized he might not be able to witness the birth of his 4th son! I had a good ugly cry, but the reality was... I was not alone. I was so thankful for the presence of my doula Pam, who is an angel on earth with a kind, warm, and nurturing soul. She was by my side the entire time. I will also never forget my friend Gina, who is a Mother/Baby charge nurse that has become a dear friend and cared for me and each of my boys post partum. She clocked out from her long overnight shift and stayed by my side, as well, helping orchestrate so many tender mercies in our family's care. We made a new friend in Parker's E.R. nurse Brittany, that took such great care of him and wheeled him to my L&D room herself to ensure we could connect before he was admitted to his inpatient room. He was admitted into the care of a dear friend's mother! My nurse Staci was such a breath of fresh air with her smile and kept me laughing. My best friend from college, Meredith, stopped by with much needed Jimmy Johns contraband to keep my energy up in labor. She did squats across the bed with me and had me laughing so hard I lost my breath. Precious friends sent their husbands on angel's errands to administer blessings to our family that brought so much comfort and peace. Parker's best friend from Highschool and his wife Heidi, one of my dearest friends and photographer extraordinaire, cut date night short to check on us and capture the final moments of labor and Nash's arrival. At home, my amazing mother was caring for our three little boys and I had such peace about them thanks to her! My mother-in-law made the trek up and ran back and forth between our hospital rooms to make sure we were getting the attention we needed. On Facebook, we were able to get the word out that our family could use the power of prayer and we felt the MIRACULOUS power of a boat load of friends and family praying for Nash's safe arrival with his Mom AND Dad healthy, happy and present! Our rockstar midwife, Tiffany, was so in tune and exercised such great judgement throughout my labor. The decisions she made were critical in his safe arrival and in the end I was just in awe of God's work in her care.
At the moment that Parker was wheeled into my delivery room, complete with NG tube and hospital attire, I was so overwhelmed by the outpouring of love that had been given us! I had cried FAR more happy tears that any sad or anxious tears. Parker had been miraculously cleared from needing surgery and was able to be fully present in helping me cope through the most intense part of natural childbirth. He was there to help me into the laboring tub and provide the infamous "forehead pressure point smash" maneuver that grounds me in the most intense moments of transition and delivery. He was there to hear me say, yet again, I can't get out of this tub... the baby is coming! He was there as our midwife Tiffany carefully unwrapped the most entangled baby I had ever seen with his triple nuchal cord and body cord! He was there to see all 8lbs 3oz of Nash Wheeler enter the world! In that exquisite moment, I was fully supported and felt the presence of heaven yet again. In those moments you realize just how close heaven is to Earth. It is right next to us!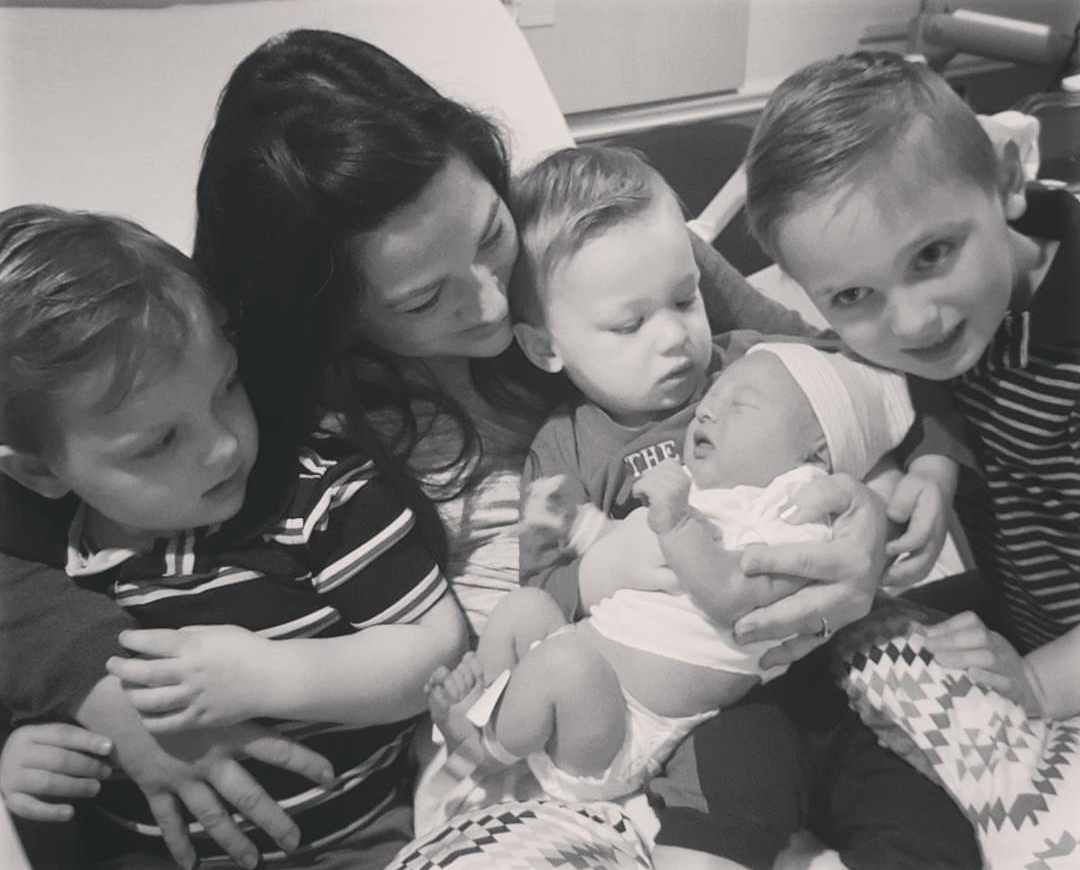 Nash's labor and delivery was such a perfect metaphor for our marriage... with many circumstances out of our control we have had to conquer many obstacles, often independently.... only to come together and realize our greatest blessings come right after the trial of our faith! God has given us SO many good gifts this year of which Nash was the beginning. Parker was blessed with the opportunity to purchase a practice and venture on his own at Hamilton Mill Chiropractic before he even reached his 1 year anniversary as a licensed doctor! We sent our oldest off to Kindergarten and officially became the parents of our very first school kid, complete with room mom duties and car rider lines! I was able to really see the possibilities to reach and help people achieve greater wellness, launched this blog, and saw my Young Living business begin to flourish! We have been BLESSED!
2017 has been one of the most sleep deprived years of my life, one of the most stressful, a year where I have had to admit that the results I judge my worth on are not what makes me worthy at all! It has been a humbling year and I have learned a little more about grace. I have learned that having a "worst day ever" does not define a relationship, a year, a person... it is just a moment to be learned from and moved on from! 2017 has been all about GROWTH! The growth of our family, our businesses, and most importantly our personal growth.
Look how far we've come!...... (can't wait to see where we will go...)